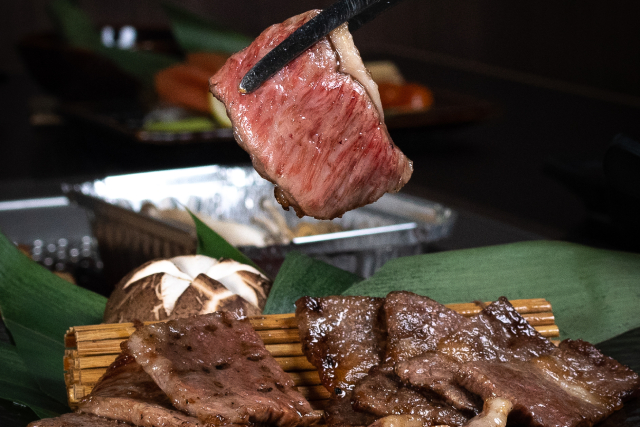 2023-May-Wed
The Ultimate Yakiniku Experience: Tips for Grilling Like a Pro
Yakiniku: a classic dish in Japanese cuisine. Literally translated to "grilled meat", yakiniku is typically served as beef, but many Japanese restaurants offer yakiniku in other meat varieties like chicken and seafood. Thinly sliced strips of meat are seasoned, dipped in marinade, and brought to you to cook on an open grill as you please. What's not to like? With the grilling process in your hands, here are some tips to make the most of your yakiniku experience!
Know your meat!
Start with lighter cuts and slowly make your way over to fattier meats. Heavier cuts of beef are usually loaded with flavour, and our Hitoyoshi Yakiniku is no different! However, starting off with these fattier cuts can overwhelm your tastebuds and drown out the lighter meats to come.
Lean meat has the privilege of a shorter wait time on the grill, so cook these first on both sides and enjoy them while waiting for your thicker meats to grill thoroughly. The fat content on these thicker pieces will melt away, exposing the tenderness of the meat underneath. This also prevents the thicker cuts' fat from overpowering the grill and the taste of the leaner meats, letting you savour the complexities of each bite individually.
Don't skimp on sauce
Japanese cuisine offers a variety of sauces, and each one can really enhance the flavour of your dishes. If you want a little kick to your plate, consider adding some characteristically Japanese flavours like soy sauce, sesame oil, or 
mirin
 (rice wine) to your meals. Dipping your yakiniku meat into these sauces can draw out the best flavours for you and enhance the savoury 
umami-ness
 of each bite.
Alternatively, customising your sauces with a mixture of these flavours and other enhancers such as garlic and sugar can really personalise your meals. Yakiniku is a traditional
Japanese barbeque
experience, but it is versatile as long as you know how to cook it well.
More than meat
Your yakiniku grilling experience isn't limited to just meat! Bring some variety to the table by incorporating side dishes into your meal. Your table guests will thank you when they see some colour on their plates brought on by steamed edamame, mushrooms, miso soup, and more.
The heaviness of the yakiniku meats will be nicely balanced by these light vegetables and soups and provide a refreshing break from repetitive textures and flavours. Diversifying your diet also makes the experience healthier and allows you to try new aspects of Japanese cuisine, something those dining with you can appreciate!
For the ultimate luxurious experience, we recommend accompanying your meats with seafood, sashimi, and even maki. These side dishes are sure to fill you and your dinner guests' tummies for a completely satisfying yakiniku experience.
Take it slow
Cook your meats slowly, placing them on the grill one at a time. Alternate between lean and fatty meats to not only have variation between bites but also to have a steady rotation of meats, so you don't have to wait too long between bites and avoid overcooking your meats.
This also gives others you dine with time to cook and eat their dishes without rushing at the table. Conversations will flow smoother, and meats will be grilled evenly, overall, making for a more enjoyable experience!
Conclusion
Yakiniku is a classic Japanese cuisine, with endless grilling possibilities and a rich history behind its flavours. Branch out of your usual routine, be adventurous with the available options, and remember the skills to bring out the best in each dish. Make an already good experience even better by following the tips provided, and you, too, can be a yakiniku pro!
We at 
Hitoyoshi Yakiniku Singapore
 offer high-quality cuts of beef and seafood, including A5 Miyazaki beef and US Angus beef, to satisfy your cravings for Japanese cuisine. Lovers of the grill can also visit us at 
Hitoyoshi Ramen & Grill
and Hitoyoshi Izakaya, one of our many Hitoyoshi Group's restaurants.