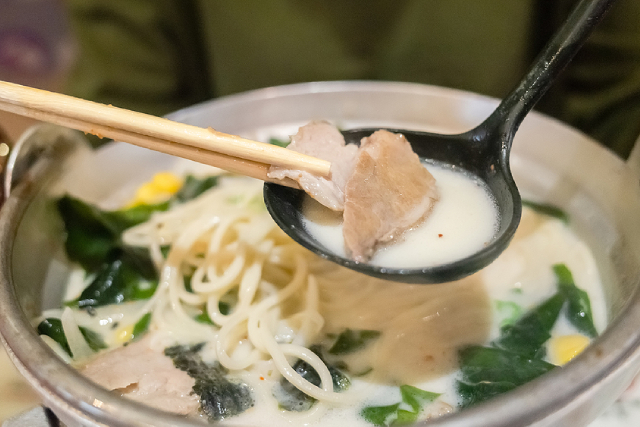 2023-May-Fri
What Makes Tonkotsu Ramen So Special? Here's Why
Tonkotsu ramen has been a mainstay in Japanese cuisine for ages. Famous all over Japan and even internationally, the dish has proven to be a favourite amongst its ramen counterparts. But what sets it apart from other ramen dishes? Here are some reasons why Tonkotsu ramen is just so special.
1. It's steeped for hours
There's no denying that a standout aspect of Tonkotsu ramen is its strong flavour. Pork bones are steeped in the broth for hours on high heat, turning the collagen from the bones into delicious gelatine. This gives the broth its classic cloudy appeal, packed with its signature umami flavour from the bones perfectly paired with the meat sitting atop.
This easy contribution to its flavour is what makes Tonkotsu broth so special. Simply steeping the pork bones for hours can make a hearty difference to the meal. With this ramen, you can make Japan's most popular noodle dish at home and still have it pack a punch with immense flavour!
2. It's nutritious and delicious
Healthy doesn't have to mean boring. With Tonkotsu ramen, the nutrition lies in its flavourful broth. By steeping the pork bones for hours, as mentioned before, all the healthy goodness within the bones flows out and marinates the soup. This gives the broth its silky feel and makes each mouthful a decadent experience.
With Tonkotsu ramen being both healthy and delicious, it's a dish that fills you up when you're craving a heavy meal but won't leave you feeling guilty. Spice it up with some
 nori
 (dried seaweed) and other vegetables you love to 
elevate your ramen game
 and add more depth to your feel-good eating.
3. Rich flavour, richer history
Tonkotsu ramen has a rich history. Originally created by Tokio Miyamoto-san on a December day in 1937, the first recipe differs from our modern-day adaptions. This change traces back to an accident made by Katsumi Sugino-san, ten years after its initial creation. It is said that his mother, left in charge of cooking the dish one day, steeped the broth for too long. What Sugino-san thought was wasted food turned out much better than his intended outcome. The pork bones marinated for much longer than usual, becoming the favoured ramen dish we know today.
Now, 86 years after Tokio Miyamoto-san's original recipe, Tonkotsu ramen remains a staple in our diets. A favourite across Japan and even internationally, savouring this ramen means tasting the richness of a broth that has stood the test of time. Make this dish even more special by incorporating unique toppings that you love and follow in the footsteps of this dish's innovative history.
4. It's versatile
Tonkotsu ramen is less of a flavour and more of a type of broth. It means "pork bone" and gets most of its taste from the marinated bones, as mentioned. This means that Tonkotsu ramen can be mild and simple for cosy days or flavoured further for when you want to make things exciting.
While the Tonkotsu ramen can stand firm on its, adding flavours to it with 
shoyu
 (soy sauce) or miso can really elevate your broth game. Perfect it the way you want, and you can always fall back on the trusted, original broth as a comfort food that never fails.
Conclusion
There's no denying that Tonkotsu ramen has won over the hearts and taste buds of food lovers worldwide. Whether enjoyed at a traditional ramen shop in Japan or at a trendy eatery in Singapore and other major city, Tonkotsu ramen is a delicious and satisfying comfort food that is sure to leave a lasting impression.
Has all this ramen talk made you hungry? Come enjoy a hearty bowl of Tonkotsu ramen (and other dishes!) at 
Ramen Hitoyoshi Singapore
. For buffet and beef lovers, our 
Hitoyoshi Yakiniku
 boasts succulent, smoky meats perfect for you. And that's not all. 
Find a restaurant
 near you to satisfy your cravings today!