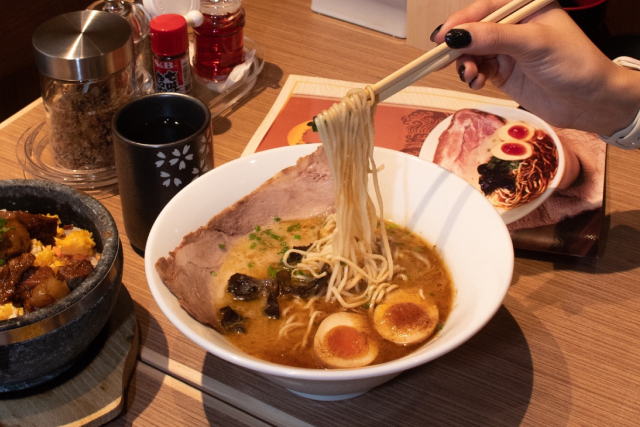 2023-Apr-Wed
Creative Ways to Elevate Your Ramen Game
Ramen, a beloved Japanese noodle soup, is a tantalising combination of textures and flavours that has gained worldwide recognition for its hearty and comforting appeal. With its signature ingredients of noodles, a savoury broth, and a variety of meats and vegetables, ramen has become a popular dish that is enjoyed by foodies and casual diners alike.
From its humble origins as a quick snack sold by street vendors and small eateries, ramen has evolved into a culinary art form with endless possibilities for customisation and creativity.
In this article, we'll explore some expert tips and techniques to elevate your next ramen dish to new heights of deliciousness.
Go Fusion
This might seem like a stretch for some people, but adding hot water creates instant luau. Combine that with spam (canned meat), pineapple and a fried egg, and you will have some authentic and traditional Polynesian-flavoured ramen.
If you are feeling adventurous, throw in some ketchup and Sriracha to taste a proper mixture of flavours swirling in your mouth. For a little more laid back, peanut butter and coconut make a great chilled ramen salad bound to soothe your tastebuds.
No reason to stay in Asia. We could add some Western elements to our ramen dishes. Mac and cheese fused with ramen by adding a nice block of cheese and putting it in the microwave, and you'll find a melty centre and nice golden-brown crust on the edges.
Finally, ramen tacos are a unique dish that will surely be memorable for anyone to try. An American regular taco's beef filling gives extra weight, texture, and fun by adding a pack of crunched-up ramen noodles. No one will ever deny the goodness that comes from such an interesting ramen dish.
Nice to Meat you
Meats that have been thinly sliced can be cooked instantly in the saucepan. Great candidates include chicken breast, pig tenderloin, and flank steak. Do remember to set the cooked meat aside and top it over just before serving.
Additionally delicious are cooked meats such as leftover chicken, steak, hot dogs, and cured meats like ham or bacon. It develops a delicious tender-chewy texture and gives the soup a smokey saltiness.
Ramen Hitoyoshi Singapore
likes to keep it traditional with
Chashu
(Japanese braised pork belly) that will never go wrong when topped in a tonkotsu broth.
However, it goes without saying that different people have different preferences regarding ramen. Here is a 
guide to ramen
 and the different types to familiarise you with your choices.
Add Add-ons 
Surely the simplest way to always make your ramen dishes different from one another is to add some basic toppings. Ramen, by itself, are starch and fat. Adding extra toppings for more protein is advisable. Plus, you can always go right with an egg on top. Hard-boiled,
Ajitamago
(soft-boiled), and even fried eggs make your ramen go up an extra level.
Some people add spices with their ramen, such as miso paste, curry powder, and vinegar; some even like to add fish sauce. The key to having a balanced amount of spice in your ramen is adding only a few competing flavours to your dish. We recommend keeping it simple yet explorative with how you like your ramen.
Adding vegetables that cook quickly, such as baby spinach, lettuce, and bean sprouts, to your ramen makes indulging in the common craving for ramen much healthier.
Conclusion
If all this ramen talk makes you hungry, enjoy a great and authentic dining experience at Ramen Hitoyoshi Singapore. You can take advantage of freshly prepared ramen dishes like our popular Tonkotsu and Shoyu or try new flavours like Garlic and Spicy.
Find a restaurant
near you to satisfy your cravings today!