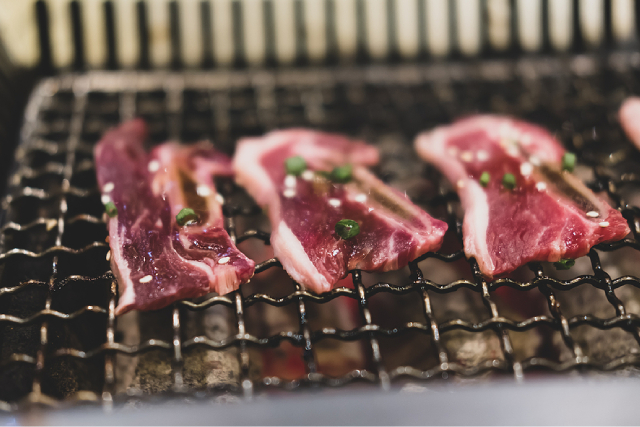 2023-May-Wed
How To Make Yakiniku In The Comfort Of Your Own Home
Yakiniku is a staple in Japanese cuisine. Loved in Japan and worldwide, this barbecued beef's rich, smoky flavour goes unmatched. But did you know it's as delicious as it is easy to make? Follow these tips to learn how to grill your yakiniku
like a pro
 in your very home.
1. Know your meats
Choosing the perfect cut of meat for you is vital. Stick to cuts that are thinner and can be cooked quickly. If your budget allows it, wagyu sliced and sirloins are decadent choices to spoil yourself at home. These leaner cuts are perfect for grilling, and the fat marbling through the cuts will melt on the grill for an aroma like no other.
For those who want more affordable options, beef fillets are a fantastic option for tender meat, lower in fat, that will cook well on the grill. Enjoy delicious yakiniku without breaking the bank here. Just remember to cut against the grain and have each cut be around 0.5cm thick.
2. Get creative with ingredients
Have some variety in your meal by including ingredients like mushrooms and onions for added flavour. These marinate well with your sauces of choice and give the meal an extra, healthy kick. For variety in your meats, consider including thin slices of pork belly for more textures and flavours with each bite.
For those big on sauces, the typical ingredients to fuse with your yakiniku would be 
shoyu
 (soy sauce), mirin, sugar, and sesame seeds. Get creative by adding sesame oil and other flavour enhancers like garlic and ginger to the mix. Add these in sparingly, and let them enrich your meal without overpowering the meat.
3. Know your equipment
If you plan to cook indoors, using a non-stick frying pan will do the trick. Stir often to cook all ingredients evenly, and you can cook them together or separate them based on your preference for each ingredient's doneness.
For those who want an authentic grilling experience, indoor hibachi grills are fantastic at searing yakiniku meats. There are many options in the market for these grills, with non-stick varieties for easier clean-up and cast-iron ones that don't have any chemical coatings on the grill. These grills add that signature smoky flavour we know and love from yakiniku. Whatever your choice is, protect your cooking area while grilling and practice safety when handling the equipment!
4. Get creative
Making yakiniku at home allows you to complement your dish as you please. Prepare a nice, simple bowl of miso soup at the side, and pair your yakiniku beef with rice of your choosing: brown rice, jasmine rice, and
haigamai
rice (a nutty and chewy option) are all great options.
If you're feeling adventurous, make yakiniku rice burgers for you and your loved ones! Or opt for a traditional setting, pairing your meat with steamed edamame, Japanese potato salad, teriyaki tofu, and other filling sides. The options are endless.
Conclusion
Yakiniku is a uniquely tasty dish with a rich history and arguably richer flavours. Bring this piece of decadence into your own home with our tips, and you'll be grilling like a pro in no time!
We at 
Hitoyoshi Yakiniku Singapore
offer high-quality cuts of beef and seafood to satisfy your cravings for premium Japanese cuisine. Lovers of the grill can also visit us at 
Hitoyoshi Ramen & Grill
, one of our many Hitoyoshi Group restaurants. 
Find a restaurant
 near you and dine with us today!