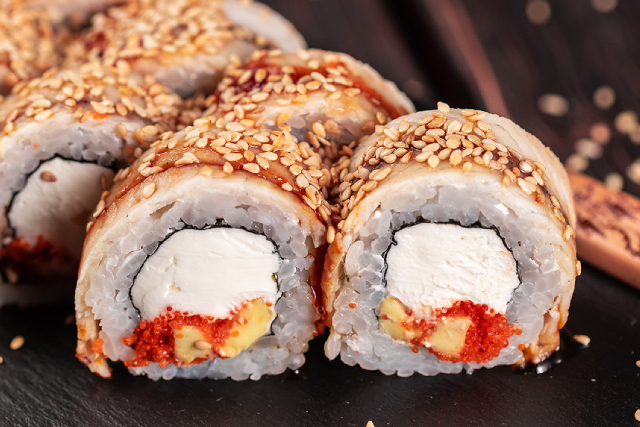 2023-May-Fri
Sushi: A Delicious and Nutritious Addition to Your Diet
Sushi is a tasty dish enjoyed by numerous people around the world. It's a Japanese staple that's been around for more than 700 years. While there seems to be an unending number of variations of this famous dish, most sushi varieties are considered to have many surprising health benefits. For instance, every dish on
Hitoyoshi's sushi menu
isn't just mouth-watering but full of essential nutrients as well. By eating these sushi dishes, not only are you delighting your tastebuds, but you're giving your health a boost too. This article enumerates some of the most amazing health benefits you can get from eating one of Japan's most prized dishes – sushi!
1. Reduces inflammation and improves your heart health
Sushi is full of Omega 3 fish oils, which are classified as essential fats that the body unfortunately can't make. Omega 3 fish oils provide a variety of health benefits, including the reduction of high cholesterol levels. As a matter of fact, research studies have shown that these Omega 3's can minimise the risk of heart disease and inflammation. They can also help lower blood pressure and maintain heart rhythm. To put it simply, Omega 3 fish oils can assist in keeping all systems in the body "well oiled."
2. Cuts cravings 
It's common knowledge that fish is a great source of protein, which balances blood sugar and maintains the stability of your energy levels. This results in longer periods of satiety, improved metabolism, and less snacking between meals. Ultimately, it encourages safe and steady weight loss. However, losing weight may depend on the type of sushi you choose to eat. For the best weight loss outcomes, go for fishier sushi choices that come with vegetables, such as tuna or salmon sashimi with seaweed salad. You can also try miso soup with sashimi if you're craving a bowl of hot soup along with your sushi.
3. Good for the brain 
Sushi is ordinarily made with fish, which is considered to be the number one food for the brain! The Omega 3 fatty acids or essential fats found in fish help repair and nourish brain cells. Since fish is also rich in protein, it helps increase the mind's concentration and maintain energy. This makes sushi an excellent lunchtime option during your work or school days. If you have poor memory, you have all the more reason to eat sushi since the high content of essential fats found in its fish can help with memory and cognitive functions. Essentially, eating sushi meals on a regular basis is beneficial for all ages in terms of maintaining healthy cognitive functions and protecting the brain.
4. Gives your bones and muscles a boost
Fish is also an outstanding source of calcium, which is the main mineral necessary for bone health. Therefore, eating sushi regularly can help keep your bones and joints healthy and prevent serious conditions, such as osteoporosis. It can also enhance the health of your hair and nails since calcium forms the necessary building blocks for healthy hair and nails. If you're suffering from a muscle tear, sushi is highly recommended for you since it's an excellent source of protein. If you eat sushi and exercise regularly, it can aid in the repair and recovery of your muscles. For optimal benefit, you should have sushi at least twice or thrice a week.
5. Makes you look younger 
Besides essential fats, protein, and calcium, sushi is likewise an abundant source of antioxidants, which delay cell damage, stave off permanent oxidative damage to the skin, and make overall ageing slower. These antioxidants preserve your skin's cell structure, which helps maintain the youthfulness of your cells both internally and externally. As such, sushi would be an excellent addition to your anti-ageing diet!
Conclusion
Overall, aside from being delicious, sushi is quite a nutritious dish. It's a heart-healthy food that can deliver numerous essential minerals and nutrients to your body. Hence, it's no wonder why sushi is a staple part of everyday meals for most Japanese, who are known for having long life expectancy. By eating sushi regularly, you can definitely enjoy plenty of amazing health benefits for your body, mind, and skin. Come visit
Hitoyoshi Yoshi Sushi Singapore
if you're looking for the most flavourful and healthiest sushi dishes to satisfy your cravings! Our sushi and sashimi are made with the most premium ingredients taken from reputable sources to ensure quality and freshness. Alongside traditional authentic sushi, we offer modern flavours, such as
mentaiko
, cheese, and
Aburi
(flame-seared) sushi, that'll certainly make your dining experience a lot more memorable. You can also check our other popular establishments like
Hitoyoshi Ramen & Grill Singapore
and
Hitoyoshi Yakiniku Singapore
if you want to have a taste of the most savoury ramen noodles in town or have the
ultimate yakiniku experience
. When it comes to good Japanese food, we're the expert you can count on!