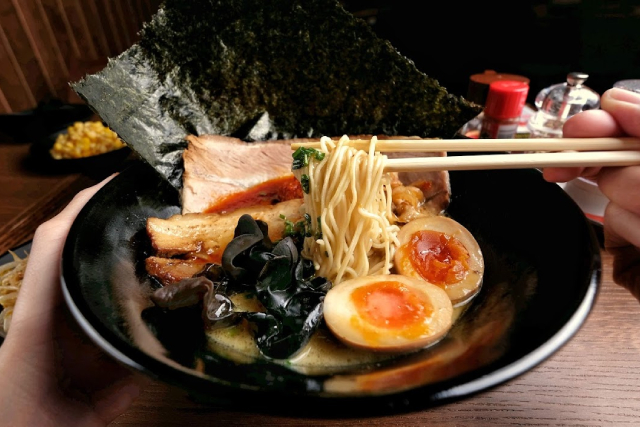 2023-May-Wed
Ramen Vs. Udon Vs. Soba: What's The Difference?
There's nothing quite as fulfilling as a bowl of steamy noodles after a long day. The slurp while you eat, the oil that coats your lips: it is heartiness personified. Noodles are a staple in Japanese cuisine, and with a variety to choose from, we want to show you the best way to pair them with your meals.
All about Ramen
Japan's 
most popular noodle dish
- ramen - is thin wheat-based noodles that have a slightly chewy texture. Their firmness comes from 
kansui
, a type of lye water that prevents them from getting mushy even after being submerged in hot soups. This makes them a perfect noodle choice for a dish with many toppings, allowing you to enjoy each bite slowly.
Ramen is popularly used in broths such as
tonkotsu 
(pork bone broth) and 
miso
, which goes great with some 
shōyu 
(soy sauce) for an umami kick. Elevate your noodles with toppings such as 
chāshū
 pork, bok choy, and green onions for a hearty meal. These mix well with the firm noodles so each element in the dish can be individually savoured.
All about Udon
Udon is characteristically thick and chewy, made from wheat flour, with a neutral taste for simple soups. They are good at soaking up flavours and work best in mild broths like 
kake udon
, a basic hot noodle soup with ingredients like mirin, 
shoyu
, and other classic flavours. This lets the udon still shine through without overpowering the rest of your meal!
Versatility is a strong suit for udon. For dry noodle options, stir-fry them for a healthier version of fried instant noodles. The udon will retain the same great flavour and keep its chewy texture. The thickness of these noodles allows for a balanced, filling meal without the risk of overeating. It's comfort food without the guilt!
Toppings for udon are far and plenty. For soup-based dishes, a healthy serving of green onions, leafy vegetables, beef, and even tempura all work well with udon. It is truly a classic in Japanese cuisine, and its use in both soup-based and dry dishes proves its versatility.
All about Soba
Perhaps the most unique of the noodles listed, soba is made of buckwheat, giving it a dark hue. It has a nutty and earthy flavour, separating it from the other noodles mentioned. Its nuttiness makes it a fantastic addition to salads, spicing up your bowl with a healthy yet flavourful carb that doesn't spike blood sugar levels.
Serve soba cold, dipped in sauce and slurped up on a hot day to fight off the heat. For hot meals, enjoy soba in broths too. Either way, slurp these noodles up quickly to savour their taste before other condiments change their flavour. They are ideal for salads and when wanting your noodles to stand out from the other items in your bowl. They also host many vitamins and minerals for those who want a healthy alternative to usual carb meals.
Popular toppings for soba include relish-style items such as a hint of wasabi, grated daikon, and green scallions. The colours of these toppings paired with a dark hue of the soba make for a spread that is as visually appealing as it is flavourful.
Conclusion
Japanese cuisine has many great dishes, and the noodles accompanying them are just as appetising. When in doubt about which noodles to enjoy, come back here and see which type pairs with your meals the best. Have a hearty bowl of noodles over at 
Ramen Hitoyoshi Singapore
, located at various locations, including City Square Mall, Seletar Mall, and Clarke Quay Central. You can also find Udon and Soba on our
Hitoyoshi Yoshi Sushi in Singapore
.